It doesn't matter the size of your kitchen. Few of us wouldn't want more space.
An organized kitchen is a spacious kitchen. A key way to make that a reality is in being smart about where clean dishes go after they've been washed. An over-the-sink dish rack creates additional real estate for that exact purpose.
What Can I Do With An Over-the-Sink Dish Rack?
It's very straightforward where to put an over-the-sink dish rack. The next step is using it. Not all drying racks are equal. There are actually a few different models in the over-the-sink dish rack category.
The best over-the-sink drying rack is the large adjustable model from ShopperPlus.ca, with compartments for every discernible dish one might wash. There's room for bowls, plates, cups, cutlery, soap and more.
Big and small, there's a place for everything.
How a dish rack like this works is any dripping happens right over the sink. It's built like a cage. There's no sitting water. Everything falls downward into the sink and what you're left with are completely-dried dishes.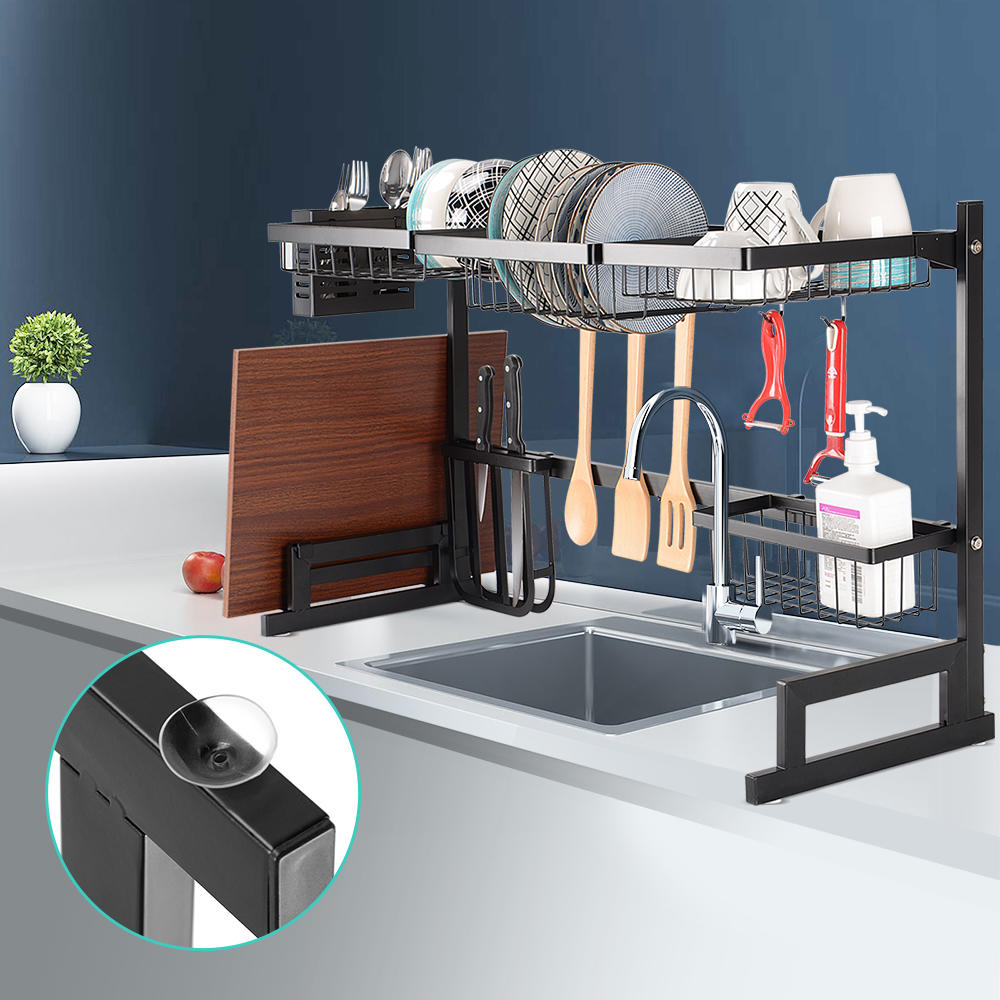 What Else Can I Put On A Over-the-Sink Drying Rack?
Although this was made to be a drying rack, you don't necessarily have to use all platforms for this purpose.
Some people choose to store clean dishes here. Some of the more common dishes they might use in the kitchen, including pots and pans. You certainly have the space for it. Cleaners. Ingredients for different recipes. It's up to you what to put here.
The real advantage to buying a dish drying rack online that fits over the sink like this from ShopperPlus.ca is that it is adjustable. If your sink is extra-large or a double sink, you can fit the drying rack over this sink simply by adjusting the length. It's an all-in-one design that's easy to set up.
Benefits Of An Over-the-Sink Wire Rack
Affordably adds more storage space with no kitchen renovation needed.
Fits into a tiny kitchen as it will a large kitchen, adjusting to fit the size of your sink.
Store washed utensils and other essentials that you want within arm's reach.
Hooks incorporated into the design to hang ladles, spoons, sauce pans, whisks, and more.
Separate compartments help to keep different kitchen necessities separate and avoid water transfer.
Stable, strong design.
Shop some amazing kitchen storage solutions at ShopperPlus.ca today. You can put anything in your over-the-sink dish rack. It adds a lot of space that you can customize to your liking.